I've mentioned this in the past, but in case you missed it, I am a music freak !! I have music playing pretty much all throughout every day and in everything I do. There's even a hashtag that a few of my friends and I started called #HRMusicShare on Twitter. It captures what people are listening to and it's a ton of fun. Music is something that brings us all together.
During the summer, I get to enjoy my fascination with rock music even more because the community I live in has free outdoor concerts each week in several venues. My wife and I love to throw our chairs in the back of the car and go to catch two hours of tunes !! This week we went to a new venue and listened to a great cover band who played classic rock hits. They were tight as a band and they got the crowd out of their seats and out dancing.
While they were deep into their second set, the drummer, who was the leader of the band, shouted out over his microphone – "Who has seen our band play before ??" There was a "roar" from the crowd because many had seen them before. He said, "Thanks !!" (and then quietly) "I live for that." It was his stadium moment !!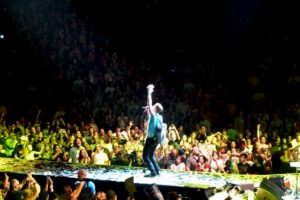 If you've ever been to a rock concert, the front man usually yells out to the crowd, asks how everyone is doing, and then they wait for the swell of yells and screams as their response. They let it wash over them, and I have to think they are like the local band I saw and that they "live for that."
HR practitioners need to have a stadium moment as well although most rarely experience one. Why is that? The key for me is that most of us are hesitant to take the mic and "be on stage." I appreciate that we do better behind the scenes at most times, but we often blend in too much. HR in the shadows is limited in its exposure and its influence. So, you may not want to rock the boat, but you may not be rocking things at all.
We can also take note that our employees are looking for their stadium moments as well. We tend to downplay recognition and want to make sure things are more "fair" than over the top. Individuals deserve individual attention. The continue attempt to make all things fit all people has never worked, and it never will. Each person in your company brings a uniqueness to what they do. All together they make up an incredible ensemble. To do this they need someone to bring them to the mic as well. HR can be that person. Make the time to elevate the strengths and talents of all of those great people around you.
HR step out. Be bold. Look out over the crowd and take in all you see. It's time for your stadium moment !! Go out there and seize it !!