Tomorrow is Memorial Day.  It's the holiday where we remember those who have fallen while in service for their country in the Armed Services.
Don't panic – this isn't a political diatribe or something meant to shake you up.  Just the opposite.  I wanted to let you know why this holiday matters to me.  You see, I'm an Army brat.  I am the first of two sons born to Staff Sergeant John Thomas Browne.  I was born on an Army base in Nuremburg, Germany back when there was an East and West Germany.
My Dad served in the Vietnam War and was unique.  He wasn't drafted, he chose to enlist.  I can tell you amazing stories about my dad like when he fell off the back of a jeep riding through base and a tank ran over him (literally) and he was barely scratched.  Or, I could tell you about the tours he did in Vietnam fighting on purpose for our country and directing action with other soldiers while only in his early 20's.  My dad was a devout Detroit Lions fan and I remember curling up with him on the couch to watch the Lions take on the hated Packers.
Sadly, these are only memories.  My dad passed away in 1968 at the age of 26.  I was four years old and my brother was two.  Most of our stories come from pictures and memories from those who knew him.  This week my mom sent me the commendation letter for the Bronze Star that my dad earned for heroic efforts leading his battalion while wounded in the battle of Ia Drang Valley.  He laid in a field which had been sprayed with Agent Orange the day before with an open neck wound for 25 hours, but he led his men with no concern for himself.  It brought me to tears because I have that Bronze Star.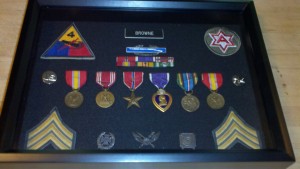 This is a picture of the awards my dad earned that my wife lovingly put together as a Christmas present for me one year.  It is displayed proudly in my house as a reminder of my dad's service.
Tomorrow I get the privilege of marching in the Memorial Day parade in West Chester, Ohio with Boy Scout Troop 941.  I am humbled to be their Scoutmaster.  We will march for two miles in the hot sun to a cemetery to honor those that have fallen in combat.  The boys in our Troop saw these medals and why Memorial Day matters . . . at least to me.
Tomorrow, don't just be thankful for a day off or for a great excuse to gather with family and friends.  Be thankful for those that serve in the Armed Forces.  I know I am.