As you go into work this week, the first thing on your mind will most likely be a problem or challenge you're facing. It could be a deadline that is looming or a myriad of other things that genuinely need your attention. I doubt, however, that employees will be the first thing you think about.
If they are your focus, chances are that you're only thinking about the employees who are causing a problem. The people who are awesome and doing their jobs well are overlooked. I don't mean to sound harsh. It's the reality I've experienced in the past, and also the observation I've had when I hear my peers talk about their work experiences. It's ironic that in a field that has "Human" in the title, we actually give our attention to a very small percentage of people who work with us.
If you would ask employees who HR represents, they'd say management. I'm not talking about a poor "us and them" culture either. I'd venture to say this reflects most workplaces. I think this is because people see us step in on situations where it's not going well with someone as the example of what it's like to interact with HR. Doesn't that tire you out? Seriously. If you're only practicing HR to handle people who are problems, it has to be discouraging. This limits what HR can, and should, do for organizations.
HR needs to develop relationships with employees at all levels. Whenever I've brought up this concept, my peers get defensive and state how difficult this is to accomplish due to their company's size or number of employees. I work for a company that has 17 different business units and 1,200 team members over a regional geographic footprint. The vast majority of our team members work on a part-time basis and over different shifts. The challenge to know everyone is real.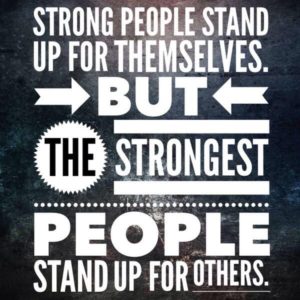 So, this is how I've approached my current environment. I don't try to reach every person on my own. That's not feasible. However, it is realistic to teach others that HR is willing, visible and available for everyone regardless of when and where they work. That message has to be consistent and then followed by behavior. I will go to different locations at different times and dates that don't always match my regular schedule. I needed to alter when I work so that I could reach others when they work. It's changed how HR is viewed because they've seen that I don't show up only for problems. There needs to be another important shift to make sure that representing all employees is the norm for HR.
Stop talking ABOUT people, and start talking TO them !!
We're in a unique position as HR professionals. We have the ability to talk with everyone. Honestly, the majority of my day is spent talking to others. In the past, I've had people question the "value" of this approach. Over time, those people are now the ones who talk to me the most. We are the one function that can listen, evaluate, counsel and connect others. Doing this clears the air on items and feelings that may have been long held in silence and frustration. Allowing people to perform has both intrinsic and real value for organizations. This may be hard to quantify on the bottom line, but I contend it impacts it more than people think.
I recently was enjoying some John Mayer, and I think he captured how employees yearn for HR to act when he wrote:
"Show me something I can be, Play a song that I can sing, Make me feel as I am free – Someone come speak for me."
It's time for HR to change and speak for others. Trust me that when you do this, you'll enjoy your role more and you will be making a tangible difference for your team members and your company as a whole. It's worth the effort. Make the shift !!