This weekend my son and I had to catch the opening of Sherlock Holmes: A Game of Shadows.  My quick review is that it is AWESOME !!  Visually beautiful, great story, action and intrigue.  But that's not the focus of this post.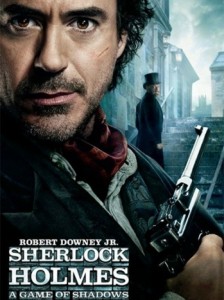 In the movie, Holmes sees everything !!  Subtle clues abound even in the midst of constant, heart-pounding action.  By following them, he is able to deduce the intentions of his archenemy, Professor Moriarty.  Nothing is missed and everything has meaning.
Now to a real life story . . .
This Friday, I met a friend at one of our LaRosa's restaurants for lunch.  Service was spectacular from everyone involved and the food was great.  Yes, I know I'm biased, but I wasn't the only one who saw this.  My friend asked me if the manager knew that I worked for LaRosa's in HR.  I told him that I hadn't met the manager on duty, but knew his name.  I explained that I like to just go to our locations and be more low key.  I don't want to add any undue pressure.
After the manager had stopped by our table to ask how things were, he did something wonderful (as we both observed).  Instead of doing the "How are things?" and pass by before an answer's even given, he stood and talked to us.  He waited for our response and then talked some more.  My friend exclaimed, "I love when they do that!  When someone takes the time to truly see how things are is what I expect.  This is great !!"
After my friend left, the restaurant, I walked back into the kitchen and introduced myself.  The reaction from the manager and the Team Members around him is what I'm used to.  It's the "Oh no, it's HR !!  I wonder what he wants ??"  I reassured him that I was just meeting someone for lunch, but wanted to share how amazing the service was and my friend's positive reaction to his experience.  The manager glowed.  The "barriers" of talking to HR dropped, and we talked as people (as it should be).
So, what are YOU looking for ??  My friend and I expected to have a great time together at our restaurant, and we did.  The employees were all performing and people were doing a great job.
Do you look for the great things ??  Maybe it's time we all did this a little more . . .
Image Courtesy of The Hollywood Reporter