This past week the rock universe took one of it's brightest stars back. The legendary David Bowie passed away after his battle with cancer. I have been a fan of his for decades.
Oddly enough, the first time I saw him was during a Christmas special where he sang the "Little Drummer Boy" with Bing Crosby. I remember watching the special with my Dad and he wondered who the "weird guy" was singing with Crosby. I said, "That's David Bowie Dad, and he's cool !!" He disagreed and thought that it was surreal to see the immortal crooner singing with this thin, pale British singer.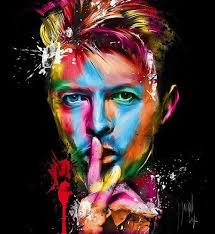 I've always been drawn to Bowie because he was willing to be himself. He never followed the norms that were expected in his music, his appearance or his approach. I also admired that he continued to remain relevant throughout his entire life when many of his peers faded into oblivion.
There are many attributes of David Bowie that I think translate well into how I practice HR and would love to see others consider and adopt. Please note that much of this is already happening. You just need to own it.
You could never note any time where David Bowie was not himself. He may have seemed contrary to his contemporaries, but he never apologized for it. I think HR people should be bold in who they are personally and professionally. It doesn't mean that you should be avant-garde just to stand out. It does, however, call for you to not have an "HR/work face" and your normal face. There are too many people who feel that they can't be themselves in HR and they end up being frustrated. If a company can't accept you for who you are and how to practice HR, then don't stay in that role or at that company. You'll never have as much of an impact as you could.
Bowie shocked the rock world during his androgynous, glam rock Ziggy Stardust phase. He morphed into the sleek, fashionable man of the 80's and then went a completely different route in the 90's and 00's with his band Tin Machine and working with artists like Trent Reznor. He constantly looked for new ways to be artistic and share his gift. It kept him relevant and others were inspired because he was willing to take risks and reinvent himself.
HR is reluctant to change. We feel the tried and true will always work, and we just need to apply it with small tweaks and adjustments. That just isn't true. The biggest threat to our profession is whether we will stay relevant as a profession. To make sure we do, we need to see new boundaries and step out to set them. You don't need permission. You just need to don the next phase of your career and adapt.
I think there are too many of my peers who keep to themselves. This isn't a matter of introversion vs. extroversion. HR people tend to sell themselves short and don't recognize the impact they have on people every day. The music and contributions David Bowie made would have been diminished if he created and then shared his work with only a few people around him. Even though he was different, he stepped forward and shared his artistry with the world. He couldn't keep things to himself and neither should we.
HR that only serves HR is meaningless. The business world without HR will continue to move on if we insist on working and living in arenas and forums outside of them. We need to be different ourselves and bring a fresh, challenging effort to what we do. As Bowie said, "We can be heroes. Just for one day."
His message was meant to push others. His music was meant to make you see and think differently. He was one of my rock heroes and his impact will live on in HR if I have something to say about it !!