This weekend my wife and I had a date night seeing the musical, Big Fish, which was based on the novel and movie of the same name. It was a spectacular performance that captured you from the moment it began.
A quick summary . . .
The story contrasts the relationship of a father and son who have completely different perspectives on life. The father spins incredible tales where he is the hero. The son is cynical and skeptical about all of the amazing adventures of his father. He can't fathom why his dad takes things and blows them out of proportion with endless exaggeration. The son wants life to be rational, logical and linear. This difference pulls them apart almost to the point of ruining their relationship.
Throughout the musical, my wife kept nudging me sharply in the ribs. You see, I am a storyteller. I always have been and actually took a class in college to learn how to interpret and share stories. I believe that you can make almost any situation come to life. It's intriguing though to see how others view this. In the workplace, most people want you to "get to the facts" because they feel that other items outside of this are a waste of time. Their time.
Isn't it interesting that we feel that time is wasted only if it affects us personally? I understand that people are self-centered, but there has to be a way around this. I don't think you have to settle on this as a barrier. If we succumb to allowing everyone to be self-centered, you end up with a workplace made up of fierce individuality and no collaboration. People need to work together. You can't avoid it.
When you go to conferences, or other HR events, you see people drawn to people who are storytellers. In fact, people will listen to those types of sessions even if they have little content. Don't get me wrong, I don't think you should ever go to sessions that don't have content. However, when everything is facts, numbers, quotes and rational thought, it's just dry. It's accurate and relevant but lifeless.
In HR we tend to get frustrated because we keep taking a rational approach first. We wonder why people don't just "get it" and stay within the parameters we establish. They work on paper every time, but fall apart once you introduce them to humans. I love this and think it's fascinating because instead of trying another approach, we build more and more policies and procedures thinking that we'll have an intricate enough structure which will finally limit and control behavior.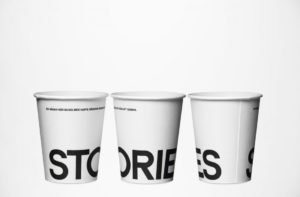 Try stories because they work. When we were children our parents read us stories to expand our vision and horizons. Weaved within these tales were lessons of do's and don'ts that applied to our life at that formative time. We think those work for kids, but are senseless for adults. Organizations take great pride in beating the child and the fun out of people because we expect them to come to "work."
Let me clear something up. You can't get people to be stronger performers when you wrap things in stories. We love to hear tales of how to do things, and do them well. We also love to hear of magnificent failure and how to learn from it. We talk about engagement of others, but we need to be engaged ourselves first.
This week lead with a story. Share an experience. Tell a tall tale. Watch what happens when you see someone start to pay attention when they were indifferent in the past. Their interest will peak and they will hang on your words as you spin a story to make what they do come to life. I guarantee you will also enjoy what you do more as well. HR deserves life in all it does. Bring it !!