Each year the country celebrates another July 4th, and it becomes a year older. With all of the picnics, concerts, fireworks and days off from work, we tend to overlook this fact. Even though America is a mere 243 years old (young compared to many countries), it's still another milestone.
In today's fast paced world, we tend to see milestones come and go with little fanfare. In fact, unless the milestone directly affects us, we don't pay it much attention at all. I understand that it isn't feasible for you to acknowledge every possible milestone that occurs around you. However, do you slow down enough to see the ones that you can?
Recently, a spectacular milestone occurred that I'm sure you weren't aware of. My cousin Mary turned 60 years old !! Now, that in itself isn't much of an accomplishment. People age every day and hit significant birthdays ranging from 1 to 100. Her aging was just time passing as it always does.
What you don't know is that my cousin, Mary, is an amazing human !! She and I have been very close since we were young children. She grew up on a family farm in the metropolis of Pemberville, Ohio while I grew up in a house trailer in the equally as massive Luckey, Ohio. (These are real places. You can Google them.) We worked on her family's farm together over the years, but then my mother remarried when we became teenagers, and we moved to Ada, Ohio which was about an hour away. I saw Mary at family gatherings and holidays which was wonderful.
Time continued to pass and Mary graduated from college, got married and started a family. I also went to college and then happened to move back into the same town as her. Again, none of this is that unique. I'm sure you have similar extended family and/or friend stories that would mirror this.
Where the story takes an interesting twist happened 17 years ago. My cousin was diagnosed with cancer. It was not good news, and she came inches from passing away. It was simply a miracle that she made it through. Many people were praying for her and hoping for the best. She did get better and has been in remission since she was on the edge of leaving us.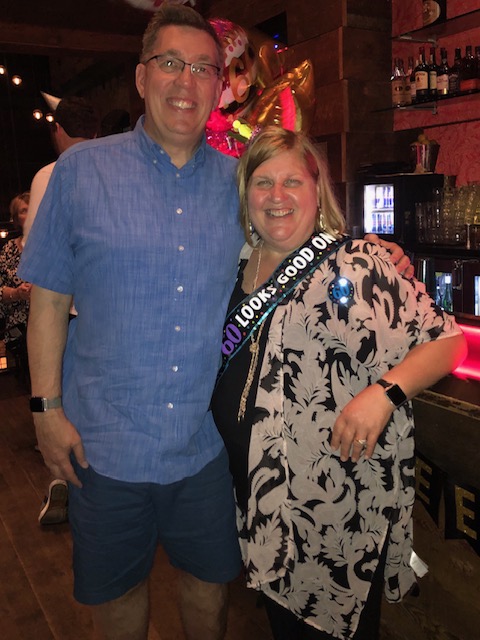 THAT is why my cousin turning 60 is a true milestone !!
Since her remission, Mary has poured into the lives of others even more than she already did. She's been fortunate to see all of her children do well and become great humans themselves. Mary is someone who still lights up a room with her smile, her heart and her infectious laugh.
As I'm typing this, I have two very good HR friends who have been recently given a diagnosis like my cousin. I'm praying and pulling for them and hope that they will get the care that they need so they can reach milestones as well. I know that there are many more circumstances that people are currently facing. They range from health challenges to difficulties at work. They may be in between jobs or have family struggles more than can be adequately captured.
I'm sharing this because I think it's time we stopped to relish and enjoy the milestones of those folks who are in our lives. That may be true of direct family members or co-workers. Instead of rushing to the next like, share or post, what would life (and work) look like by taking time to listen and understand what is happening in the lives of those around us?
I know this may not be "natural" for you, but I think it's worth your time. I genuinely feel that investing your time in the lives of others is the best use of your time. Every. Day. This is especially true if you're an HR peer. HR has always been about humans and the lives they live. It's not about the work they do !! Trust me. When you focus on the lives of others on purpose, they will be more engaged and productive than they ever have been.
This week start celebrating milestones !!
I know that this may be a change in focus for you, so I wanted to give you a tool to get you started. My good friend, Kevin Monroe, is starting a 10-Day Gratitude Challenge. I've signed up and would encourage you to do the same. Here is the link – https://kevindmonroe.com/the-gratitude-challenge/