As you read this you're probably getting ready for the work week. How do you do that? I'm sure it's probably different for everyone, but there is preparation of some sort. You get your outfit together. You look at your calendar for the next day or even the whole week. The question I have is, "Which face did you choose to put on ?"
For some reason, people choose to act one way at work and another outside of work. In fact, they may have different work faces depending on who they're interacting with during the day. One for senior management. One for your department. Another for your peers and one more for those who are in roles lower than yours. Gets tiring doesn't it?
Why do we feel the need to carry multiple personas? What's so hard about being ourselves? Let me share a story . . .
Early in my career, I worked for a Fortune 100 company as a recruiter. These were the days before "business casual" existed. Our department was going to go together to a company sponsored night at the Cincinnati Reds. We had seats in the stadium and weren't in a suite. I had never been out with my co-workers socially because I was much younger than them. So, I had never seen them in "non work" clothes. I was geeked to go to the game. I chose to wear a Reds shirt, shorts, a Reds hat and, of course, my red Chuck Taylor low top Converse shoes !!
My co-workers actually stared at me and asked me if THAT was what I was going to wear to the game. They were in casual clothes, but very nice ones. I smiled, said "Yep, trying to show team spirit !!"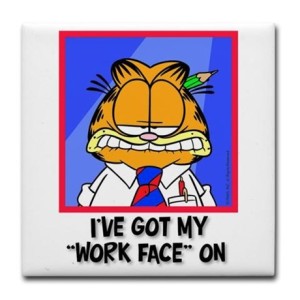 I was given the tickets for me and my friend that were separate from the rest of the group from work. You see, I didn't have the right work face on. I didn't know I needed one !!
I don't work at that company any longer, and I've watched over the places I've worked since then and I keep running in to more and more work faces. This needs to change – especially for HR !!
HR folks need to be genuine all the time and with everyone. You can't expect people to be genuine themselves unless they see it modeled for them. Doing this will make you vulnerable, transparent and emotional. In other words – human.
Trying to play a game of being different personalities for different people within an organization only hurts you and your company. Also, you need to understand that employees are yearning for someone to be "real" with them. It's missing in companies today, and that's a mistake.
This week stop putting on a work face and be yourself. When you see others with work faces, make it safe for them to let them take it off. You'll be pleased with more and more folks being genuine. Once that happens, then you'll see true performance occur !!