Have you ever had someone tell you that you're "different"?  If you have, I'll bet you didn't like it. We don't want to be seen as being outside the norm. Throughout our lives we do our best to blend in because it's more comfortable for us, and we feel safer being in groups. It's not easy to stand away from the pack.
What if you did step away from the crowd? What would happen? Would you have the stamina to stay outside and be different?
The reason I'm asking these questions is that many HR practitioners take the safe path. Trust me, I'm not calling for you to be contrary just for the sake of standing out. However, I am asking you to consider how you practice HR. Doing things traditionally within organizations will allow you to be effective . . . to a point. There are tasks that we need to perform in order to keep structure and parameters in our companies. This aspect of our function should occur naturally and provide a foundation for HR practices, polices and procedures.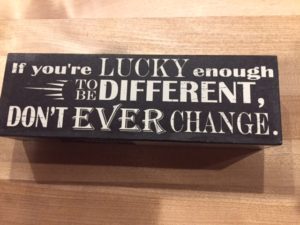 Do you move past the foundation? If you do, then you're beginning to be "different." It's true. What we need to take to heart is that organizations expect us to have a strong base, but they are looking for more. It's not enough to just make sure that things are in order.
One thing to note is that stepping away from the crowd isn't negative. It's not going to cause you to do things that take away from practicing great HR. It should allow you to be the businessperson you were meant to be. We need to come to terms that it is no longer enough to only practice HR. It just isn't. We can't continue to think that we're needed in organizations if we aren't contributing to the success of the company as a whole.
There are many ways to differentiate yourself. Some things are specific to the type of service/product your company does, but there are three items that can be implemented in every type of company.
Solutions not problems
I received a great piece of advice from an HR executive. He said, "Everyone brings me problems. I need you to bring me solutions." He was talking about others in HR. His experience was that he could tell if an HR person was strategic or not by how they approached him. If they only brought up problems, he knew they weren't strategic. We need to bring solutions to organizations. It makes us different.
Span the Levels
People tend to work and interact with people at the level they personally hold. Executives work with fellow executives. Middle management hangs with and collaborates with those in similar roles, and the front line staff stay with their peers. Great HR practitioners don't see the levels. They move up, down and across with ease. It takes great effort to not get stuck at your level. However, when you do it, it makes you different.
Build Relationships
There is a step that goes past the ideal of making the workplace more human. That's thankfully becoming the norm, and I'm geeked to see that. The next step is to build relationships. There's a healthy way to do that across departments. The reason to do this is so that you can understand your employees better and more intentionally. Knowing information about their family, their interests and their hobbies matters. People are longing for acknowledgement and connections in their work. Step out as an HR person to make build their relationships and be different.
The small plaque pictured above is where I plan to stay and I hope it becomes the mantra for you and all of HR. Once you find ways to be different, don't change. Stay that way.