One of my favorite daily things to do is randomly call friends on my commute home. I have almost an hour in the car, and it's a great way to make the time go by. (Don't worry, I'm a hands free user.)
This past week I had a great conversation with Heather Kinzie from Alaska. She's a great HR pro and I highly recommend you connect with her !! We were chatting about life and work and she was telling me her thoughts about work when she said something profound. She noted, "I don't want to work at a place where I'm half a person all of the time !!" I almost swerved off the road because that statement rang so true.
Heather wasn't bemoaning a certain environment or employer. She was just stating the sentiment that affects the vast majority of employees who go to any workplace. You've had to see the statistics that are out there right now that state that 70% to 80% of workers are disengaged in their current role. That is staggering to me because we instantly personalize data like this and think of our own workplaces. What we don't do is compile the number of workplaces that exist. If 70% to 80% of workers are disengaged in ALL workplaces, then we face a massive obstacle each and every day regardless of where we work.
In HR, we express that we want people to bring their "whole self" to work, but that's not really true. We want people to bring as much of themselves as fit our systems and norms. We freak out if people are outliers and work so hard to make people conform. This isn't an indictment, it's an observation. Since this is the culture of most companies, it's not surprising that someone would bring half of themselves to work – all of the time.
Is there anything we can do to shift this state of malaise? I think there is. However, it will take a truly radical step for HR. You see, we are the controllers of conformity. Our systems, procedures and policies scream for same mindedness and behavior within a tight framework of parameters.
I think there should be company norms and the majority of these happen naturally. If your company's leadership and/or industry is more formal, your norms will follow. If they are more hip and edgy, your norms will follow there as well. HR has to look at how it makes these cultures come to life to see if you're allowing people to freely move and perform in these environments, or if we're making sure that people show up.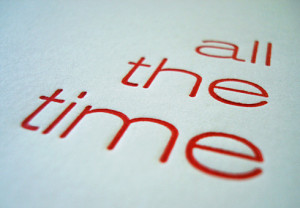 You see, the best cultures can be stifled if our HR practices are more focused on being visible and seen (i.e. showing up), or if they're on performance. If your culture truly champions performance, and your focus is development and shepherding within that culture, then people will bring more of who they are to work – all the time.
What is the big concern? If we looked at having less control, would chaos really ensue? Trust me when I say this – If your HR systems are built to control folks, you actually have no control at all. You don't have a work environment, you have an institution. People can't help but be disengaged because the environment doesn't even exist to encourage them to be engaged.
This week look around your company. Do you see "half people" ?? Are you existing as a half person yourself in HR ?? This needs to change and it starts with you. Don't settle for environments where people only exist. Instead, work intentionally on building an environment where people can, and are expected to, thrive !!