Not sure if you know this, but my life during the day is being the head of HR for LaRosa's !!  We're a regional pizzeria that is a true Cincinnati tradition.  I'm very fortunate to work for a known brand, and our pizza is honestly the best on the planet !!
The role I have is very strategic and is expected to be.  I get the chance to work with our 1,200+ Team Members over 15 pizzerias, a manufacturing plant where we make our incredible dough, a call center and our corporate office.  This isn't a bio or a "look what I do" post.  It's a reminder.
You see, I hear a phrase in my company that occurs in every company around the world.  It's a phrase that relegates people and doesn't show the value they truly bring to work every . . . single . . . day.  Whenever you hear someone say, "Well, they're just a (insert position here)"
If you ever say this, or hear it said by someone else, you should correct the person who says it and tell them to cut it out.  There isn't one position in an organization that is more critical than another.  All employees play a role and it is critical that we see the value of what they do.  For example . . .  If the phenomenal cooks in our restaurants don't do their best, it has an adverse affect on the guest's experience and possibly the company.  They aren't "just" cooks.  They are the first chance to make a person's visit to our location the best meal they've had !!
I think most people reading this will be cool with addressing the "just a's" of other roles in our companies.  Now . . . let's talk peer-to-peer.
HR pros need to quit saying, and acting, that we're "just" in HR !!  Seriously.  There is no other position, or field, that is so critical of itself.  We continue to belittle what we do and it makes absolutely no sense.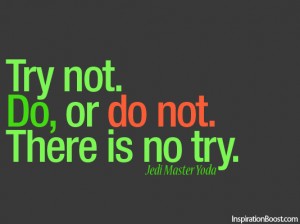 I think we need to position ourselves differently by our actions and our behavior by being Businesspeople who practice HR.  We need to see ourselves as being integrated throughout our company, and make the steps to do this on a regular basis.  This isn't a "try" position.  It's a "do" commitment !!
I've had some people be skeptical about my enthusiasm about how much HR rocks !!  It doesn't dissuade me in the least.  In fact, it makes me want to try even harder to get our field out of the mode of being a 2nd class position in organizations.
This week DO something about this.  (1) Stop allowing others to sell your employees short. (2) Value and elevate the great people who make your company successful !! and (3) Don't ever, ever, ever say you're "just" in HR again !!
Image courtesy of Inspiration Boost