"All in all you're just another brick in the wall" – Pink Floyd
The incredible double album, The Wall, was released my senior year of high school. I listened to it endlessly. It is still one of my favorite sets from one of my favorite bands. During college I worked as a Resident Assistant and we had "Cool Steve's Movie Night" every year. We played the movie of The Wall each year at midnight and sang every word of every song !!
(Pardon the nickname. It was given to me because I ran things differently in the dorms. I was practicing my brand of HR even then and didn't realize it.)
The theme of the movie and the album was that seen from a character who felt every situation in his life kept building a wall that continued to constrict him. It's not a cheerful way to look at life by any means. However, it seems to be how many people see life . . . and HR.
Too harsh? Tell me, have you had this happen? You walk into a room and people rustle and say, "Shhh, here comes HR." Not a great feeling is it? Have you ever noticed that when people do this, they never say your name. It's honestly the most impersonal comment anyone could make in the workplace, and it paints us in a poor light.
We rarely counter this comment. In fact, most of the time, we try to deflect it, ignore it or work around it. I think that we need to step up and not allow this attitude towards us anymore. However, there is a key thing that needs to occur before that happens. We need to quit adding bricks to the walls of our organizations. We do this all the time in the majority of our human resources efforts. We have the best intentions when we put out policies and procedures, but to be honest we manage to the exception. We have supervisors who see a small fraction of people behaving in ways they don't like and they ask for another layer of bricks to be added. This is done instead of expecting people to talk to each other and address situations as they occur.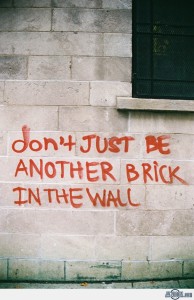 Honestly, it's easier to pen another policy and lay more bricks than it is to face human interaction. However, it is our job as HR professionals to show people how to interact, listen and address people. We should refuse to pen one more item that builds the barriers in the workplace we already battle.
I recommend that you follow a test I call, The Three "O's". If your actions hit any of these three, then don't do them. Come up with another alternative. It takes effort, but it works. So, don't move forward with policies or procedures if they:
Obstruct
Are your efforts causing more obstacles for people to do their jobs? Have you considered how these methods affect performance? Chances are you're only developing layers of rules which won't be practiced consistently. Play out how things will affect others before you are quick to implement them.
Ostracize
Evaluate how many people your policies and procedures actually apply to. If you see that you're addressing a small minority, then step back and refuse to add it. This is a poor business practice not just a narrow HR practice. Companies should not have systems which only impact a thin ribbon of the organization. The same is true for HR. Remember we are business people who practice HR – not the other way around.
Obfuscate
This word even sounds clunky !! It describes when things are obscure, unclear or even unintelligible. Have you even looked at your policies and procedures recently? There is an old mantra from the world of education which states "publish or perish." HR falls into this trap by writing more and more rules for people to follow. The lack of clarity that occurs is a huge brick in the way of people understanding their roles and what they are to do.
This week take a look at your HR practices and see what walls exist. Apply the Three "O's" test and then start taking those bricks down. When you do this, the next time you enter a room people will be geeked to see you and call you by name !!