A good friend of mine (and of many), Becky Robinson, started this great new group calle Team Buzz Builder.  If you are part of the the "team," you are asked to read new books and then give your opinion about them.  This is new to me, but I wanted to be involved because I am a voracious reader !!
In fact, right now I'm finishing up the first book of the Hunger Games trilogy, just wrapped up the great read Social Gravity by Joe Gerstandt and Jason Lauritsen as Talent Anarchy, finished a book by Thomas Cahill and am about to pick up a book by Dietrich Bonhofer.  I love having 3 to 5 books going at one time.  It may be a little erratic, but I dig it.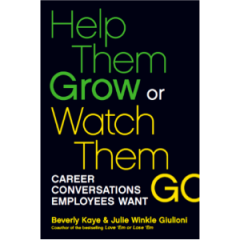 Every once in awhile a book stops you in your tracks and makes you delve more into it and enjoy every moment.  I recently came across just such a book.  It is Help Them Grow or Watch Them Go by Beverly Kaye and Julie Winkle Giulioni.  I couldn't put it down – literally !!  The book is fast paced and yet the most insightful book around the topic of professional development that I've ever encountered !!
The book struck a true cord with me because it's approach made so much sense.  As HR professionals, we keep looking for THE system that will finally address the lack of feedback and/or performance metrics in our organizations.  We continue to hold onto the ancient notion that the annual "sit in front of my supervisor who rarely tells me how I'm doing so he/she can focus on my weaknesses" is effective.  It's not.
Employees long for development regardless of their level in an organization.  The notion of "up or out" doesn't come close to how lean organizations operate these days.  Beverly and Julie have written out a perfect method to address all forms of development and have made it relevant to ANY industry type.
HR – please take note of this.  I'm not a person to just share my opinion if it's not something I'd be willing to practice.  I'm using this book as our "script" at looking at development internally at the Leadership level and in our pizzerias.  I'm getting a copy of the book for each of the SHRM Chapter Presidents in Ohio because I want to see them develop as leaders and for them, in turn, to develop the HR folks in their chapters.
The book is a must read because it's applicable.  How often do you find that ??  I recommend you read the book first and make your determination.  I'm all in !!  I hope you will be too !!