This week I participated in a true Cincinnati tradition !!  My family and I went to Opening Day for the Cincinnati Reds.  It was truly a spectacle to behold !! Everyone was smiling, laughing and anxious for the start of a new baseball season.  The smell of bratwurst, pizza, beer, popcorn and peanuts filled the air.
People didn't want to miss any second of the festivities.  The Reds have always valued this tradition since they were the first Major League team ever.  Fans are loyal and educated about the storied past as well as being encouraged about the current team.  They know stats, performance indicators and have strong opinions about their favorite players.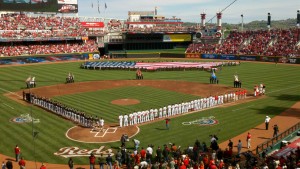 All eyes were glued to the field when they paid honor to wounded veterans who had proudly served our country.  Next was the unveiling of a gigantic American flag that covered the outfield as an enormous plane flew over the stadium at the perfect moment amid roaring cheers !!  The ceremonial first pitch followed and then we moved onto the game.  You could hear all types of conversations going on all around you, and every "ooh" and "ahh" of the plays on the field was palpable.
Seeing this event was truly a treat for my family and me.  It also made me think . . .
42,000+ people were filled with awe, joy and hope for baseball players that don't even know they exist.  We go to work everyday with a team of people we need to have succeed more than any sports team ever will.
So, what if we treated the beginning of the day like Opening Day at work?  We were geeked to see everyone !!  We cheered their performance on and wanted to see them bring their best in all they did !!  We knew that each person had a role that made the team thrive and we built on it, encouraged it and gave them the equipment to "knock it out of the park."
As you start this work week, you can have that Opening Day feel !!  What do you say?