This past week an entertainment icon passed away – Leonard Nimoy. He was mostly known for his immortal TV character, Spock from Star Trek. As a devout HR Nerd, Spock has always been my favorite Star Trek character.  I admired him because of his loyalty in his relationships and his willingness to always explore who he was and what humanity was all about.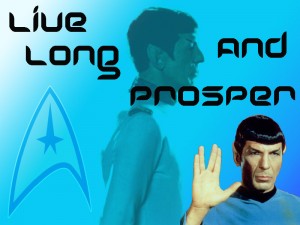 Spock had a signature greeting, or salute, that he gave to others by raising his right hand, splitting his fingers into a V and state, "Live Long and Prosper." Looking back now, it truly reflected Mr. Nimoy's life and his journey. He struggled with being identified as Spock for his entire career. He even wrote a book called "I Am Not Spock." Everyone wanted him to stay in this role because that's how they saw him. They didn't know he was a very thoughtful man, poet, musician and artist. After some time, he came to terms with who he was and the legacy his role had. He actually wrote a second book entitled "I Am Spock."
Did you know the original Star Trek series only ran three years and stopped in 1969? That's forty-six years ago !! What an incredible legacy !! Yes, there have been subsequent movies, books and other Star Trek series. Those existed only as a legacy to the original show. In fact, Star Trek and Spock have become a part of social culture.
Now, think of how you approach your role in HR. Are you looking at how you practice what you do, or are you just making sure your job gets done? Do you have an "impact approach" or a "legacy approach"?
You see, you make an impact every day whether you are intentionally choosing to or not. Your impact is determined by your behavior, outlook and effort with others in your company. That doesn't ensure that your impact is positive though. One can impact others in negative ways which have a much longer effect than you can even imagine.
A legacy approach is just slightly different because it still involves your impact. Remember, Mr. Nimoy's original run as Spock was only three years. If you knew that your "run" as an HR practitioner had a limited time to it, would your daily look at your job be different? Would you put everything you had into what you did so that when you were done, it would be remembered and sustained?
I think that too many of us in HR are either concerned about keeping our job, advancing in our job or just existing in our job. There is an opportunity to not only have an impact, but an impact that truly makes a lasting difference in the lives of the people around us. When you change your approach to one that will leave a legacy, you will see each day in a fresh new way.
I love that Leonard Nimoy came to terms with who he was and his legacy. He was active on Twitter and would finish his tweets with #LLAP for Live Long and Prosper. Every tweet. Every time he would communicate to others.
That is my hope for everyone who practices HR. It's how I approach what I do and I hope you join me in having a legacy approach to what you do !! #LLAP