Followers.
It's amazing to see how a word can transform and become something completely different. I've always thought of the word as a group of people who were willing to get behind someone, or some effort, that they believed in. I still do.
However, with the constant flood of Social Media, the term has taken on a new life. Now the word "followers" is associated with those that click a button on a social media platform in order to connect with another person. This action may have substance, or it may mean that they're connecting to follow a trend. It's a false sense of popularity and visibility that also carries weight. Countless lists that rank people on social media look at the number of followers as a metric to show "influence."
Now, before you get all riled up, I'm not against these lists, this level of visibility or having a method for people to connect with each other. What does concern me is that leadership is watered down because following is no longer something that has significance.
In organizations, senior management invests in many people who they identify as "high potentials". I'm not a fan because people perform at different times of their careers at a peak level due to the work they do as well as the environment or economic climate they are experiencing. I do believe that all employees have potential, but the isolation of a select few rarely leads to optimal results. The assumption is that high potentials are great leaders. In most cases these folks are charismatic and very visible to the "right" people. There are countless examples of people who are deemed to be the future of the company that either don't pan out or leave because they were able to get someone else's attention.
Leadership is written about daily in several blogs. It is something that is critical in organizations and people are striving to continue to define it, identify it and make it thrive. What is intriguing to me is that HR rarely jumps in on this topic either personally or organizationally. We typically position ourselves to support and respond to others who take on leadership roles. This needs to change.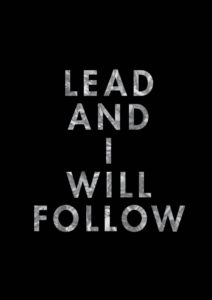 HR is in a perfect position to lead in all they do, and this is especially true in identifying those who should assume leadership roles within a company. I want you to consider a different, and much simpler benchmark, when seeing what leadership looks like.
Look to see who others in your company congregate around. See who is the person whose opinion is sought on a regular basis. This may, or may not, include people who hold current "leadership" roles by title. Titles don't automatically infer leadership. Leadership is said to be better defined when you look over your shoulder and you see people there. In others words, do they have followers?
People want to follow and rally around someone. They look for leaders who focus on others and not just themselves. This is where having followers is key. As the observer of the organization, HR needs to see where this is occurring and take note. These are the people to check out and see how they are leading. They may be your real potentials that will continue to grow and succeed !!
This week step into a leadership role HR. Find out where the leaders and followers are in your organization. It's imperative that we do !!