A few weekends ago an amazing person passed away !!  She influenced more people than she ever knew and she never would have taken credit for any of it.  Did you see her passing in the press/social media?  No, I'm sure you didn't.
You see, it was my Aunt Elaine.
After 81 phenomenal years, Aunt Elaine moved onto the next stage of life where I'm sure she was welcomed with open arms !!  I was at the SHRM Leadership Conference when her funeral services were held and I was disappointed to not be there for my extended family and the myriad of people who came to show their respects and shine as an example of who she touched.
You see, my brother and I were incredibly blessed when we were very young.  Our Dad, a Vietnam Vet, passed away in 1968 after losing a battle with Hodgkin's Disease cancer.  We were 4 and 2 at the time.  Living in the mighty metropolis of Luckey, Ohio (yes, it is a town) would have been difficult for my Mom to raise two young boys except for our incredibly tight knit family.  Most days we were with my Grandma and Grandpa as Mom went to work.  However, we were often at Aunt Elaine's , a mere mile and a half away as well.
I fondly remember spending the night and waking up before dawn with my cousins to go out and work in the barn doing chores to care for the farm animals.  It was hard work for a young boy, but every aspect of it was spectacular !!  The warmth, the smell, the sounds – all of it permeated every inch of you and made you feel connected to the life of being a farmer.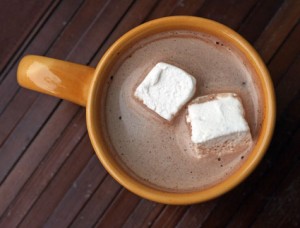 After chores, we would all bounce back into my Aunt and Uncle's simple farm home to a table overflowing with food !!  Farm fresh eggs which we had just gathered, bacon from the farm, toast from homemade bread and of course – hot chocolate made with milk !!  The chance to have breakfast, or any meal, at my Aunt's house was an incredible treat.  We thought this was "normal" for when we were at the farm and revelled in it !!
Why does this all matter ??
You see, we all leave a legacy in our lives whether we choose to or not.  My Aunt Elaine touched countless numbers of people with her laughter, her charity, her positive glow and outlook on life and her love for family.
In HR we work around people every day and we have the chance to be a positive imprint on their lives.  We often think that by focusing on the "business" of what we do is more important than caring for others as people.  Just remember – that leaves an imprint as well !!
So, this week, what can you do to be that simple mug of hot chocolate?  Be intentional and value all of those whose lives you touch !!  It will matter eternally !!