Have you ever been so exhausted after an event that you just had to collapse? Isn't that a great feeling ??
That may seem counter intuitive, but it is refreshing to know that you've given your all for something. There are needs all over the world that are yearning for people to give of themselves with their time, focus and efforts – not just their money. The reason it gives us such a feeling of fulfillment is that I think we're wired to give.
I hear folks every day state that they are "busy." I understand that we all feel the pull of others come at us from multiple directions. However, I think that when people feel they're busy, they're actually trying to express that things that are vying for their time are things they aren't genuinely interested in.
People have time. The challenge we have is that because we are pressed by things that bother us we get stagnate. When we get stagnate, we lose interest. After we lose interest, we lose the desire to give. The needs of others all around us don't diminish though. There are opportunities all around us where people can plug in.
What does this have to do with HR and the workplace? Everything !! We need to be organizations that have a culture that provide avenues for employees to give. I don't think that we should define where people should give, but we should give them the ability to do so. We can assist in this by giving our employees encouragement and helping them understand how not to be "busy."
Start with yourself. I want you to understand that the issue of giving isn't time, it's capacity. All people are filled to their capacity with something. We don't lack for being full. What's great about this is that if we hit our capacity, then we can give from our overflow. Once people connect with causes that matter to them, they will find the time in their day to give.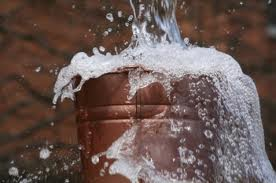 It's like a bucket.
There's incredible volume within the vessel and the flow of life never stops pouring into the bucket. Remember, everyone has a bucket. Everyone feels busy. It's not just you. So, since your bucket is going to be filled with work, commitments at home, kids, pets, extended family, etc. That is normal. You're going to hit the lip and start overflowing. The question is the quality of the material filling your bucket. If it's negative, then your overflow will come out to tear things down, see what's wrong with everything and discourage others. If it's positive, then who knows what amazing things will come forth? The opportunities are actually limitless.
HR people can help control the flow that enters everyone's bucket at work. We really can. When people come to work, we can be a positive influence with each employee and our culture as a whole. We can clear the path so that people can do well in their role and have productive relationships with others. When we clear out the gunk, then their buckets can fill to capacity positively. Then giving will come more naturally.
This may sound overly optimistic, but it's something that I'm passionate about and know that works. Take some steps this week to help others to change the flow. Be a giver yourself so that others can give as well !!