Do you remember playing Tag when you were a kid? I think every child since the dawn of time has played Tag at least one time. To refresh you're memory – there's a person who's "it" and they run around trying to tag others and transfer being "it" to someone else. Usually, there are tons of screams, giggles and taunts as people run around to avoid being tagged. It's a great game where people typically quit only after becoming exhausted from running around.
This past week, I took a short vacation to Washington, D.C. with my wife. We really enjoyed seeing the sites from Arlington National Cemetery, to several monuments, the sobering United States Holocaust Memorial Museum, George Washington's homestead Mount Vernon and a walking tour through Old Town Alexandria, Virginia. It's amazing that we can walk about freely in our nation's capitol and take in all of this history. We were surrounded by literally thousands of people that seemed to move like waves from attraction to attraction.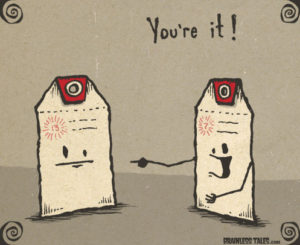 As I continued to read plaque after plaque about people who impacted our nation and world, I was struck by something. When they were tagged, they were okay with being "it." They stepped into the situations before them and acted. It didn't mean they were perfect in character or background by any means. They had faults because they were humans just like us. But . . . they acted.
As I look around at people today, I hope they are willing to be tagged. In the childhood game, the goal is to avoid the tagger at all costs because you don't want to be "it." This is also somewhat prevalent in our society. We're very concerned about what affects us personally, but we don't step up to act. I think we feel that if we act that it will infringe upon our personal time to such an extent that we're stymied against moving at all. We also fall into the trap that we'll be required to do something we're not capable of doing. Our minds make us think that we're not able to do well in what we're pursuing, so we stay put.
I want to challenge everyone to understand that action is not some monumental task. It's just the willingness to break out of inertia when needed. As HR pros, I want to encourage you to be a person who's willing to be tagged. We can step up and get involved in areas both inside and outside our company. I fiercely believe that HR pros who are others focused are people who will be successful in ways they've never expected.
We can't continue to sit idly by. I'm not going to presume where you can plug in, but I know that it's needed. You see, if we don't act then we can't affect the outcome of situations. Something that could be worked out and have a positive result may not because it made us uncomfortable to be "it." I don't know about you, but I can't let that be the case.
I am not under some misconception that some day people will be walking around reading some plaque about my actions. However, reading what others were willing to do rekindled the fire in me to continue to be tagged. And, since I'm "it", I'm looking to tag others. Be watching. You may soon hear – "Tag, you're it !!"
Image Courtesy of Brainless Tales