Earlier this month, my wife and I celebrated our 30th anniversary of marriage. I'm very fortunate that Debbie said "Yes" three decades ago !! I mean it. We are very compatible because we're opposites. As extroverted as I am, she isn't. As detail oriented and organized as she is, I'm not. It works for us, and I'm grateful for her every day.
I've written about our kids here on the blog over the years as well. This weekend we hit a true life milestone by "officially" becoming empty nesters. Both of our adults have moved to different cities, San Diego and Indianapolis, as they start the next stage of their life. We're excited to see them grow and can't wait to see what will come next for both of them.
Our anniversary occurred in the midst of both of our kids transitioning which was fine with us. So, we didn't have a giant night out or some massive celebration. That really isn't our style. The kids wished us well and told us to keep our eyes out for a package. We hadn't seen anything, so we forgot about it. We just completed the move to Indy for our daughter this weekend. After two fairly full and exhausting days helping her set up her apartment, we came home to an unexpected surprise.
A large, flat, square cardboard package was leaning against our front door on the porch. We were eager to see what it was !! Once we opened it, we both smiled and were very touch. Here's what we opened . . .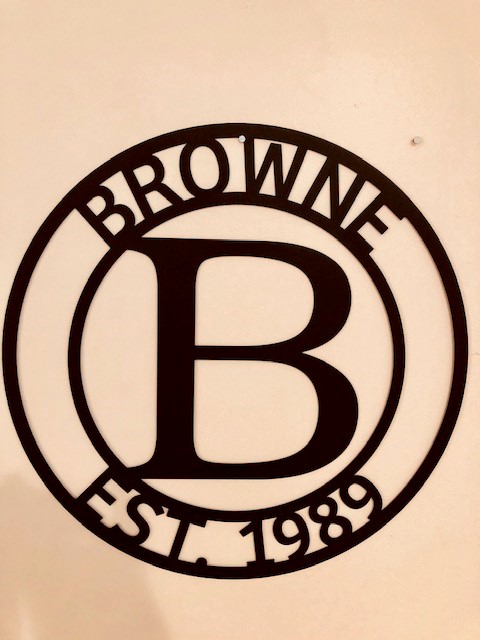 We couldn't believe it !! The gift from our kids was perfect. This would be a daily reminder that we "established" our lives together. It seemed to give our family a sense of permanence. In fact, my wife was tickled that we were now finally established.
It made me think of other areas of my life. Our kids are now taking steps to become established themselves in new cities and with new jobs. It is our hope that they will do well and start having milestones of their own.
What about work? Was I established there? I've been with the same company for 13 years now so I guess you could say "Yes" from a tenure standpoint. But, had I put my stake in the ground to make HR and the organization better in what I had done over this time? I'd like to say "Yes" to this as well.
However, it made me think about others in HR. Far too often I hear of stories where HR practitioners don't feel they're grounded or have their place identified within their organization. This is extremely frustrating and people feel defeated in their roles. Why don't people take steps to address this when they find themselves in this situation? Why suffer unnecessarily?
You can turn this around. You can. It isn't as difficult as you may have been lead to believe. Organizations want HR to be relevant, successful and needed. We just need to see it in ourselves and believe it. The steps you need to take are unique to your role and your organizational culture. I can only offer one piece of advice that will get things started.
Ask the organization what they expect from HR and inform them of what you expect from them. Establish this with the leaders of every department. It will be different for each one, and that takes effort to keep track of the various expectations that will be shared. This type of effort works. You shouldn't leave your relationship to chance or ambiguity.
Setting expectations of each other is something my wife and I have done over these past three decades. As life has evolved, so have our expectations. The years have been filled with far more joy than challenges, and part of this is because we know where each other stand.
This week set your expectations and get established. It would be great to get your own sign to put up on your wall starting this year !!