Have you been through a season in your life when everything either seems to be passing you by, or seems to overwhelm you? Have you been at a point when something that seems should be simple turns out to halt you in everything you do?
These questions are the reality of many people who surround us every day. We may, or may not, know that they are struggling, but it happens. Chances are the people you call co-workers are trying their best to work through life. Is this something that we should concern ourselves with as HR practitioners? We're honestly taught not to even allow "life" to come into the workplace because people are supposed to show up to WORK.
We write, speak and pontificate about methods and numbered steps that will ensure stronger employee engagement or emotional intelligence, but we skip over the situations that people are in. It's yet another example of how we complicate HR when it could, and should be simplified. I think that when it comes to working with others, it boils down to a simple phrase . . .
Do good.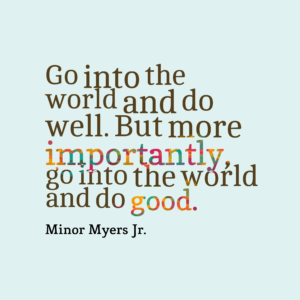 When you are with others at the workplace – do good. When you find yourself in situations involving conflict and differences of opinion – do good. When things elevate and may get heated and people lose their cool – do good.
I may be in the minority here, but I believe that this is the foundation block of what Human Resources even is. Without it, we are no different than any function within an organization. There is another component to this approach, never stop or tire of doing good.
When you step back and understand that people mask the facets of life, both great and challenging, in order to even make it in for another day of work, you'll realize it can become exhausting. However, no one is stepping into this gap and providing an outlet for people. HR has to be the profession that willingly and genuinely steps into the lives of others. When people know that they have someone they can connect to and that you will genuinely listen to them, you can honestly feel the pressures of life slowly release. As that release occurs, their heads will clear and it will allow them to PERFORM and not just work.
There is one last facet you should consider if you become an HR person who follows the approach of doing good. It's about you. Where, and who, do you go when you are constantly dealing with the lives of others? How do you make it without breaking down yourself?
We have the same pressures and situations in life that our employees have. However, HR people tend to be isolated in companies because they don't have people that they can confide in themselves. Here's a chance for us to transform our profession.
It's time for HR to do good . . . for each other by being there for each other.
The absolute key for me remaining in HR is the network of peers that I have who are my friends. They are people who also "do good" in their roles and we make sure to reach out to each other intentionally to know each other, our lives and what is happening. Joys and concerns. Highs and lows. Struggles and opportunities.
You need this in your life. You need others who understand you. This is essential to thriving in HR.
So, reach out to each other and connect on Social Media, make a phone call, drop someone a note. Be an encourager in another HR person's life. Never stop and never tire of . . . doing good.