This past week has been a whirlwind. Each week I have is full, and I'm fortunate for that. I have some great things going on at work, and I was able to also have the opportunity to speak at the Vermont SHRM State Conference and attend a SHRM Board meeting. Any time I can be near my HR peers and get to know them more, do good work and share some laughs along the way, my bucket is filled.
However, this week, my bucket leaked a little.
Several years ago, my dear friend Matt Stollak, was talking to me about his HR Students at St. Norbert College in Wisconsin. He is a phenomenal human who also happens to teach people to become the future practitioners in our profession. Matt always has fond stories of his students, but one in particular made a profound difference in my life. One day he reached out and wanted to make sure that I connected with one of his students named Callie. I sent her a note to connect and she jumped on the request right away.
Callie was eager, interesting and engaged the first moment that we talked. She was always smiling, ready to share a jab and challenge your perspective because she wanted to learn more and more about HR. When I started to get to know her, she was the SHRM student chapter President. She interviewed me for a paper of hers and kept in touch until she graduated. When she entered the workforce, we stayed connected and I loved seeing her start to dig in and grow as a peer in HR.
Our paths crossed over the years at various SHRM events because she remained involved as a SHRM volunteer leader for the Wisconsin SHRM State Council as both the Social Media Director and College Relations Director. I've been active and volunteering for two decades now, so I had a good chance of running into her. Just a short time ago she left the corporate world of HR and actually joined SHRM as an employee. Her role was as a Field Services Director which meant she would visit State Councils and local SHRM chapters and conferences to work/meet with SHRM volunteer leaders. It was great to see her join in and give the role a new viewpoint and energy !!
As I kept staying involved myself, I saw Callie more regularly because I had stepped into different roles which allowed me to travel and speak around the country. Every time I was at an event with Callie we would chat, catch up and laugh (of course.) She was a bright light that I couldn't wait to see. She was continuing to flourish and improve the lives of so many people, and I loved seeing her thrive !! She even recently stepped into the role of overseeing College Relations and the Young Professionals efforts of SHRM National.
A few months ago, she called me and shared some incredibly grave news. She told me she hadn't been feeling well and the doctors she had visited couldn't figure out what was happening to her. After multiple visits to doctors, she was told she had Stage 4 stomach cancer. I was crushed. I thanked her for letting me know, but I felt absolutely helpless.
I reassured her that I would check in and be available for her at any time. I am a man of faith, and I told her that she would be in my prayers. This wasn't a hollow sentiment. She told me that she was facing a fierce regimen of chemotherapy, but was hopeful that since she was younger, she would get through.
A week ago, Matt reached out and told me that Callie was given 4 to 6 weeks to live. Now I was devastated. I reached out that day to text her and tell her how much she meant to me and to so many others. I told her that she needed to know that she was a light who made a lasting impact on everyone she encountered. I also told her that my life was better because she had been in it. Again, not a hollow sentiment.
I then heard that she was going to meet with hospice this week. After I had spoken at the Vermont SHRM conference and had a packed room filled with more HR peers who were laughing and looking at life and HR in a positive way, I got the news that Callie had passed.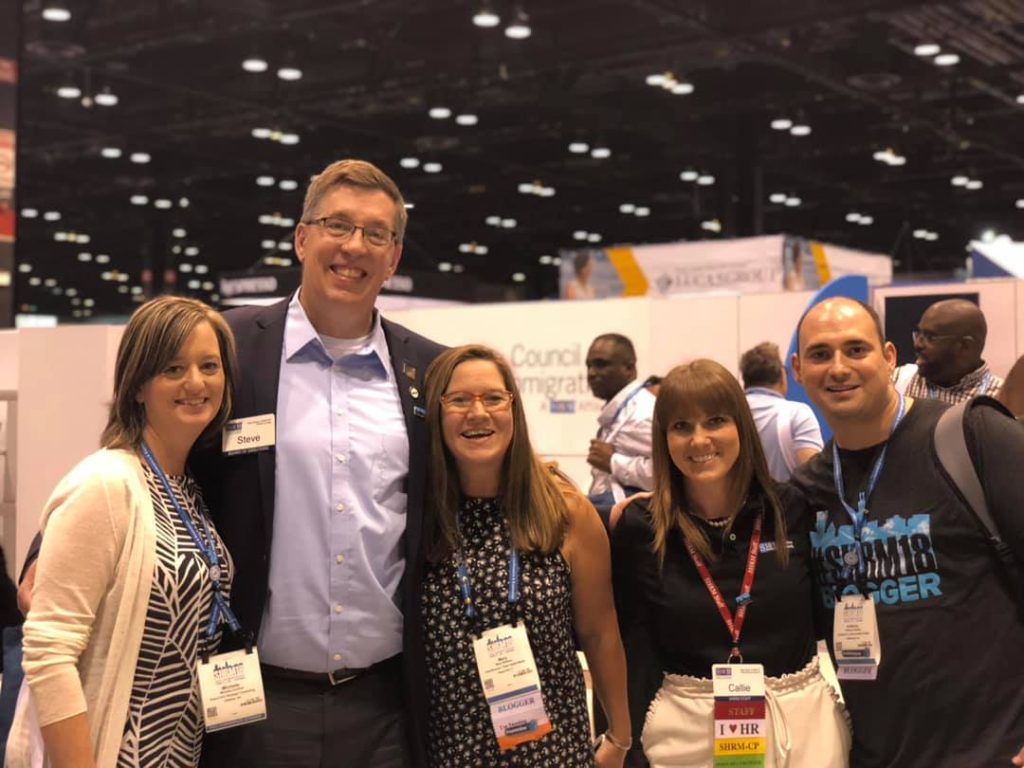 There are no good words for how much I'm affected by her passing. I know that the loss of anyone is never easy. I ache in a way that seems to have no end because Callie is no longer here. I'm crushed for her husband and family as well.
I reached out to Matt to ask if he thought sharing the news on social media would be okay. I wanted to be respectful, but also wanted to let others know that were fortunate enough to have met and known Callie. He thought it would be fine. When I shared, I was floored by the incredible response and outpouring of love and support. She HAD made a difference !!
I'm writing this today for two reasons: (1) I needed to make sure that even more people knew about my friend Callie. (2) I wanted this to be a reminder for all of us.
You see, Callie engaged every. single. person she encountered. She met them with interest, joy and a willing ear to listen. She didn't look past anyone to get to something, or someone, more important. People mattered to Callie.
My friends, we have the same opportunity that Callie took every. day. We are surrounded by people in our families, our workplaces and in our communities. Are you taking the time to engage with others? Do they matter?
Do you know that YOU may be the one person who chose to stop, connect and listen at the exact moment someone needed to be noticed and heard? The people who are in your life are there for a reason.
You need to remember that you make an impression on people any time you meet them. Those interactions can be positive and lasting if you choose to be intentional and step into the lives of others on purpose. You can be the one interaction to remind them that they matter.
Callie did that for me as well as for so many others, and I am eternally grateful that she did.