There's a very cool place that is a five minute drive from my house called Station Road Farm. Many towns have a place like this where you can buy flowers, produce, mulch, pumpkins, etc. It is a popular location because it's a farm that seems to have been dropped in the middle of a suburb. This has been a favorite shopping option for my family for years. It gave me a chance to keep close to my roots because I grew up on or near a farm for most of my youth, and my kids got to have a quasi-farm experience.
I remember on my relative's farms that there were always animals. There would be multiple dogs and cats that just seemed to come with the whole environment. So, when we visited Station Road Farm, I wasn't surprised when I saw the same thing. When my kids were very young, we were making a visit to pick up tomatoes and corn when they were distracted by new kittens roaming around the property. The cashier was very observant and she looked down to my daughter and said, "The kittens are free to a good home. Would you like to take one?" My daughter got those big eyes that kids get when they want something, and she cooed, "Can we Dad?" We didn't have any pets at home, and I couldn't say no to those eyes. I said, "If you see one that comes up to you, I'll think about it."
As if divine providence was upon her, a small yellow kitten started wrapping itself around and around my daughter's legs. She squealed and said, "Dad, look !!" We drove back home and picked up my wife and son and brought them back to see the kitten. They loved him too. That was the day Bailey came home with us. We weren't prepared and had nothing needed to take care of a new pet. So, we made a trip to the store and bought everything we needed – and then some.
That was 14 years ago. He has been a wonderful part of our family who had some very unique qualities. Every night when the kids came home from school, or Debbie and I came home from work, he was at the door to greet us. Every. Night. He also loved playing fetch by chasing a small rainbow striped ball up and down our basement steps forever. Bailey was never a lap cat, but he was ever present. If we were in a room, he was there with us. He always knew where we were and he did his rounds to check on everyone to make sure things were good.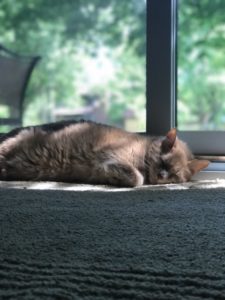 This weekend Bailey passed. We fondly shared stories of his life. There were visits to elementary school for Show & Tell with both kids. Then there was the time of how he survived a thunderstorm when he fell out through a screen on our second floor and stayed on a small strip of the roof soaked and mewing until we pulled him in. He begged at the table and was a fan of lunch meat and licking tuna cans clean. Everyone is biased about having the "best" pet ever, but I would say that Bailey was the best fit for our family. I don't think there's any better description that fits him. I'm so thankful he chose to wrap around my daughter's legs.
I know that I normally write about how to make HR better, but we need to remember that our lives are so much more than our chosen occupation. We have so little actual time truly interacting with people even though we feel it consumes every waking moment of our time at work.
Instead of being overwhelmed by the encounters and interactions you have with people, I challenge you to cherish them instead. People pass in and out of our lives daily. Instead of letting them pass you by, be intentional and connect with them. Who knows, you may be the exact connection they needed at the exact time they needed it.
Value others. Celebrate their lives and the time you have with them. Never take it for granted and be thankful for the time you have.
Thanks Bailey for being a vital member of the Browne family !!